Are you interested in getting a puppy from Safari Doodles? Or, are you in the market for a Doodle puppy and curious about who you can trust?
Finding a reputable breeder is essential. I struggled to sort through all the breeders while looking for my Doodle.
In this article, I will explore the ins and outs of Safari Doodles, a breeder in Texas. A few points I want to cover are:
Breeder overview
Breeding practices
Pricing
Reviews, and more!
See if Safari Doodles is suitable for you and your family!
Breeder Overview
Safari Doodles is based northwest of McKinney, Texas, around an hour's drive north of Dallas. As a family-owned business, they have been delivering happy and healthy pups to families throughout the United States for decades.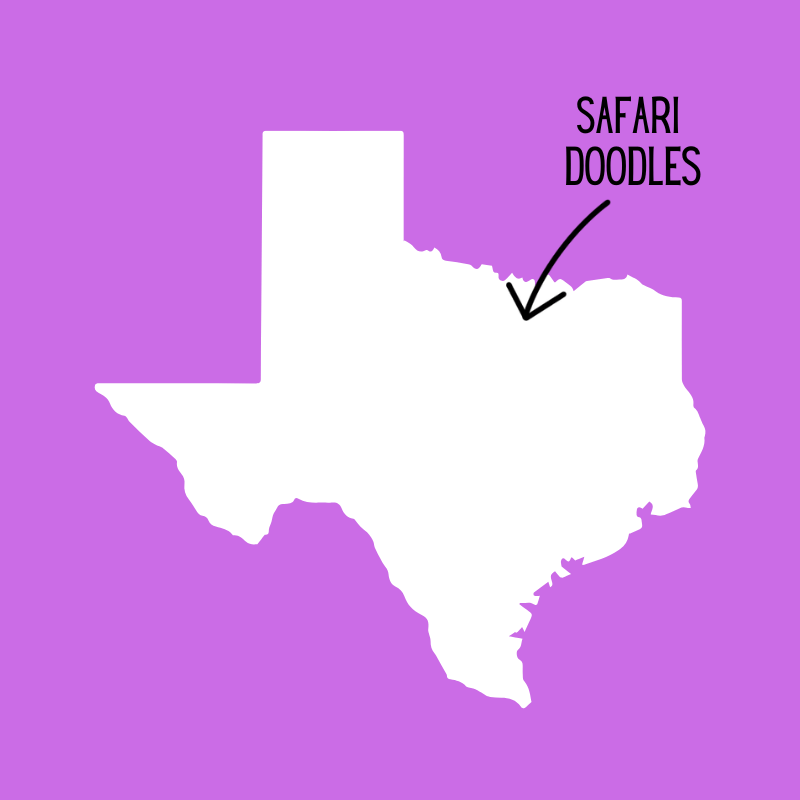 My research revealed that Safari Doodles is committed to producing healthy, sound, and stable pups. They source their parent dogs from top-winning show dogs and exceptional service dogs, ensuring they bring the best and most trustworthy bloodlines and superior genetics into their pedigrees.
One aspect I greatly appreciate about Safari Doodles is their dedication to proper DNA health testing for both their puppies and the parents.
This means that they are breeding proven healthy dogs and proactively preventing many diseases, making it clear that they have the best interests of both the pups and their future families at heart.
The breeder's love and passion for Goldendoodles and other Doodle breeds are evident from their strong following on social media platforms such as Facebook. They have over 17,000 followers on Facebook!
Of course, followers on social media is not a true measure of their quality but it does speak to their reputation.
They have a handful of positive reviews from previous customers. This makes it clear that they always strive to provide top-notch care and support for every one of their pups, creating a solid foundation for a healthy and happy life in their new homes.
What kind of dogs do they breed?
In my exploration of Safari Doodles, I discovered that they breed a handful of different Doodle breeds:
Labradoodles
Havapoos
Bordoodles
Breeding Practices
Safari Doodles greatly emphasizes exceptional breeding practices.
In this section, I will discuss some of the critical factors that contribute to the high standards of Safari Doodles breeding, including genetic testing, health certifications, and our breeding philosophy.
Genetic Testing
Safari Doodles ensures the health and well-being of their puppies through extensive genetic testing.
Before breeding, each parent dog is tested for common health issues that may be passed down to their offspring.
They can identify potential genetic issues through rigorous testing and prevent them from being passed down. This helps in maintaining a healthy and happy line of puppies.
Health Certifications
In addition to genetic testing, they ensure their dogs have proper health certifications.
This means all breeding dogs undergo regular health examinations and are cleared of health issues.
These exams include tests for hip dysplasia, eye issues, and more, which allows them to verify that every one of their dogs is in good health before breeding.
Furthermore, they are committed to providing comprehensive vaccinations and deworming treatments for their puppies.
Before they go to their forever homes, every puppy will have received appropriate medical care, guaranteeing they are happy and healthy when they meet their new families.
Breeding Philosophy
The breeding philosophy at Safari Doodles revolves around producing high-quality, allergy-friendly, and non-shedding puppies that make the perfect additions to any family.
They employ responsible breeding practices to achieve this, ensuring their dogs have excellent temperaments, conformation, and overall health.
One thing I must mention is that Safari Doodles ensures that their parent dogs live in comfortable environments, either in their homes or in guardian homes.
By doing so, they ensure the dogs are happy while preserving the superior genetics in their pedigrees.
Selecting a puppy from Safari Doodles
In this section, I'll share my insights on their puppy selection process, including pricing and reservations, puppy matching, and waitlist details.
Pricing and Reservations
Puppies at Safari Doodles are $3,500. This price is reasonable compared to other reputable breeders.
To reserve a puppy, you must submit a non-refundable deposit, which goes toward the overall cost of the puppy. In doing so, your name will be added to the waitlist for my puppy of choice.
Puppy Matching
One aspect that truly impressed me was Safari Doodles' commitment to matching each family with the perfect puppy for their individual circumstances.
They consider factors like our family's lifestyle, preferences, and living situation to ensure a great match.
I appreciate the attention to detail in their matching process, as it showed that they want their puppies to go to loving and suitable homes.
Waitlist Details
Wait time for a pup may vary depending on factors like available litters, planned breeding schedules, and the specific breed or generation.
If no available puppies match your preferences, you can wait for the next litter without losing my place on the list. This flexibility is a great advantage when searching for a pup.
Puppy Care and Training
Safari Doodles offers a puppy training bootcamp. I discussed this with a previous buyer to see how their experience went.
The following comment is a summary of what they said:
I enrolled my puppy in their Boot Camp training program when they turned four months old. The intensive 3-week course at $175/day provides a foundational education in obedience and manners.
They cover basic commands like sit, stay, and down, which has made a living with my pup a breeze.
I always appreciate the power of positive reinforcement! Treats, praise, and playtime are great rewards for good behavior.
Also, establishing a routine and being consistent in my commands help tremendously with my puppy's progress.
Safari Doodles Reviews
If you are anything like me, then you are obsessed with reviews. I rely on reviews to sniff out potential breeders.
In my research, I found a lot of positive reviews on both Facebook and Google. There were some complaints here and there (covered in the next section).
Below are a few reviews that I found particularly helpful when evaluating the reputation of Safari Doodles:
"We LOVE our puppy! He fits seamlessly into our family. Levi is very calm, smart, funny, gentle, cuddly, and caring. He instinctively runs over to our boys when one of them gets hurt to provide comfort and they all run and play together when no one is crying. He's turning out to be such a great family dog!"

Ashley T.
"Our Scooter is a perfect dog. Beautiful coat of hair and has eyes that he uses to his advantage—easy to train and very smart and healthy dog. I would not consider buying one anywhere else. Told them what I wanted and they knew which puppy I needed. We are considering adding another as they are so fun. Thank you Safari Doodles".

Vivian B.
Safari Doodles Complaints
While researching Safari Doodles, I came across a few complaints worth mentioning. Although taking any negative feedback with a grain of salt is essential, it's my duty to give a comprehensive review and inform my readers about the positives and negatives associated with this breeder.
One complaint I found focused on the dogs' living conditions at Safari Doodles.
Some individuals reported concerns about cleanliness; others mentioned that the puppies seemed scared and skittish. However, this may not reflect the current state of the facility.
Another issue was related to the delivery of the puppies. Some buyers experienced delays or occasional hiccups, such as miscommunications or missing documentation. While these problems can be frustrating, they seem like they are only prevalent across some buyer interactions with Safari Doodles.
I have also seen a few comments that their puppies came home with illnesses such as giardia and parvo.
Lastly, a few reviews mentioned that their puppies developed health issues down the line. Though it's always disheartening to hear stories like these, it's important to remember that Safari Doodles is not responsible for every genetic issue a dog may develop in its lifetime.
Furthermore, these cases may not adequately represent the overall health of puppies produced by Safari Doodles.
In summary, while there are some complaints regarding Safari Doodles, it's essential to recognize that only some buyers will have the same experience.
When considering whether or not to purchase a puppy from this breeder, I encourage you to research thoroughly, visit the facility in person, and ask any questions you may have to ensure a positive outcome.
Is Safari Doodles a puppy mill?
My research found no clear indications of Safari Doodles being a puppy mill. Their dedication to their puppies' health and development suggests they prioritize responsible breeding practices.
Of course, I encourage everyone to do their research and seek personal testimonials to ensure they're making an informed decision when selecting a breeder.
I know the importance of finding a responsible and ethical breeder, so I dug deep to find any red flags.
I explored their website and noticed that Safari Doodles has been around since 1999. Their long history in business speaks volumes about their dedication to breeding quality dogs.
I discovered that Safari Doodles doesn't sell puppies before they're eight weeks old. This policy aligns with responsible breeding practices focusing on socializing and nurturing healthy, well-adjusted puppies.
By not releasing puppies too early, Safari Doodles shows their commitment to the puppies' well-being rather than just maximizing profits, which is common in puppy mills.
Conclusion
As someone who has researched and interacted with many breeders, I can confidently say that Safari Doodles is a top choice for families seeking a loving and intelligent Doodle pup.
Their commitment to ethical breeding practices, rigorous health standards, and robust customer support make them a standout in the industry.
Safari Doodles offers an impressive variety of breeds, including Goldendoodles, Havapoos, and Bordoodles. Their puppies are known for being non-shedding and allergy-friendly, making them an excellent match for most households.
Furthermore, their focus on creating service dogs showcases their dedication to giving back to the community and supporting individuals with disabilities.
As a potential pet owner, it's essential to choose a breeder that produces high-quality puppies and prioritizes their animals' health and the pet's long-term welfare.
Safari Doodles checks all of these boxes and goes above and beyond in meeting the needs of both their puppies and future parents. If you're searching for a furry family member, Safari Doodles should undoubtedly be at the top of your list.
Do you have experience buying a puppy from Safari Doodles? If so, let me know your thoughts in the comments below!