The Goldendoodle dog breed is the star child of Doodle breeds, and even possibly of all dog breeds. Nowadays, I see one of these adorable pups every time I go for a walk around the block or visit the dog park. The Golden Retriever-Poodle mix is cuddly, energetic, and friendly. The perfect traits for any household looking to bring home a new friend.
Besides being super cute, there's a lot to learn about this Doodle breed. This article will aim to cover some of the things you ought to know before you go out and buy a Goldendoodle puppy.
How I Met My First Goldendoodle
When my Bernedoodle, Murphy, was a puppy she was a ball full of energy. Her coat was super fluffy and wavy, as Doodle puppies' coats tend to be. So I had a crazy ball of fluff that I had no idea what to do with.
Not long after I adopted Murph, I met a nearby neighbor who just so happened to have an energetic ball of fluff, but this one had a golden-colored coat. It turns out this little guy's name was Henry and was the same age as Murphy.
It was a match made in heaven. Murph and Henry played together almost every day. They wore each other out completely, which made our lives wonderful because a tired puppy is a good puppy.
This was my first true introduction to Goldendoodles. Henry was a sweetheart and a savior. Murph loved him to death and he made me itching to buy a Goldendoodle. But I knew my limits, one pup was enough for now.
Sadly, we moved away from Henry the Goldendoodle but still keep in touch from time to time. He grew up to be a wonderful dog and has brought so much joy and happiness into his owner's life.
So if you are looking for a Goldendoodle to adopt I think you are making an excellent choice. If you want to know more about this wonderful Doodle breed, then I believe you are in the right place. I aim to cover everything you need in this guide!
Breed Introduction
The Goldendoodle is a cross between a Poodle and a Golden Retriever. They can grow up to 24 inches tall and weigh between 50 to 90 pounds. They are high-energy dogs who are keenly intelligent and easy to train.
Most commonly referred to as a Goldendoodle, this breed is also known as a Groodle, Curly Golden, Curly Retriever, or a Goldenpoo.
Before you fall in love with these designer dogs, you will need to consider whether you will be able to adequately care for these teddy bears the way that they truly deserve. Let's take a closer look at the history, appearance, temperament, health, and history of the Goldendoodle.
If you're more of a visual learner and don't want to read the entire article, this video by a Goldendoodle breeder offers some good insights on what it's like to own a Goldendoodle:
Things They Won't Tell You About Goldendoodles
Popularity
Before we get too far, it is important to note that Goldendoodles have become one of the most popular designer breeds in the world. This is incredible given the fact that they have only been in existence for a short time.
They were initially bred to serve as guide dogs in 1969 [1]www.thesprucepets.com/goldendoodle-dog-breed-profile-4169836. But since then, they have had a meteoric rise in popularity.
In Rover's 'Most Popular Dog Breeds' annual report, Goldendoodles rank #5 in America [2]www.rover.com/blog/press-release/rover-announces-americas-most-popular-dog-breeds-of-2021/.
The chart below shows the search volume on Google for the keyword 'Goldendoodle' since 2004. As you can see, it has been on a rising trend for well over a decade.
Lastly, the number of accounts and posts on Instagram that are dedicated to Goldendoodles is truly mind-blowing. As of this writing, there are over 9.2 million posts that include #goldendoodle.
The numbers are in. Goldendoodles are one popular dog breed!
History And Origin Of The Breed
The Goldendoodles' parent breeds are purebred and found among the 197 pedigree dogs listed by the American Kennel Club. The Poodle and the Golden Retriever enjoy popularity worldwide, with the Golden Retriever rated 4th most popular and the Poodle 6th most popular on the AKC Most Popular Dog Breeds list [3]AKC.
Despite its excellent heritage, you won't find the Goldendoodle among the breeds listed by the AKC. You will, however, be able to register your puppy with the Goldendoodle Association of North America.
Golden Retriever History
The Golden Retriever has its roots in Scotland, initially bred in the nineteenth century. They have a history of excelling as therapy dogs and hunting dogs. Since then, they have warmed the hearts of many a home as a loyal, loving family pets.
With their adorable personalities, these beauties are not only good-looking but brilliant dogs. This is a medium-sized breed, and you can expect males to grow to a height of up to 24 inches and females up to 22.5 inches [4]www.akc.org/dog-breeds/golden-retriever/.
Typical colors for Golden Retriever coats include yellow, gold, or cream shades, which gradually fade with age. The coat is double layered, which means that they have a short, dense undercoat and a long, wavy topcoat.
You will be hard-pressed to find a dog with a sweeter temperament than a Golden Retriever. Their calm, gentle demeanor makes for a pleasant and agreeable companion.
Their high intelligence and desire to please mean they will be relatively easy to train. Mental, as well as physical stimulation, is needed to keep them satisfied. They are social animals by nature and form close bonds with their human family.
Because of their need for close social bonds, Golden Retrievers may suffer separation anxiety if left on their own for long periods [5]www.golden-retriever-dog.com/veterinary-help/golden-retriever-separation-anxiety. They are also not known to be very good guard dogs due to their overly friendly nature.
You can expect a Golden Retriever to be a part of your family for 12 to 13 years. There are a few major health concerns: elbow dysplasia, cataracts, hip dysplasia, retinal atrophy, and subvalvular aortic stenosis [6]www.akc.org/dog-breeds/golden-retriever/.
If you want to learn a little more about Goldens, this entertaining video provides some great information:
Golden Retriever - Top 10 Facts
History of the Poodle
Poodles are pedigree royalty and are not only beautiful show dogs, but they are energetic and intelligent. They come in different variations of apricot, black, brown, cream, silver, grey, red, blue, and a few other colors.
The size of your Goldendoodle dog will be largely dependent on its Poodle parentage as there are Standard, Miniature, and Toy varieties of Poodles. These are not different breeds of Poodles, just variations in size.
The largest Poodle, known as the Standard Poodle, is between 18 to 24 inches tall and weighs 71 pounds. The Miniature Poodle grows up to 14 inches tall and weighs between 26 and 31 pounds.
The Toy Poodle is the smallest in the group and only grows up to 10 inches and weighs between 4 and 6 pounds [7]www.akc.org/dog-breeds/poodle-toy/.
These puppies are high maintenance as their long, curly coats require frequent grooming. They do not shed much, but fur can become matted and tangled without regular grooming.
Poodles make excellent watchdogs due to their alert and vigilant natures, but, unfortunately, they won't make good guard dogs as they rate low on aggression.
They are easy to train as they are very eager to please you. They are highly sociable and bond well with their humans and other pets.
This is not a particularly territorial breed, but Poodles are highly protective of their loved ones. They will require just as much love and attention as they give and are generally considered high maintenance.
Set aside enough time with your Poodles as they require lots of mental and physical stimulation, as well as a rigorous grooming regimen to keep them in good shape.
Appearance
The appearance of a Goldendoodle varies across litters. It is dependent on a few different factors that hinge mainly on the parents and the generation (F1, F2, F1b, Multigen, etc.). The b designation means that the Goldendoodle was backcrossed with a Golden Retriever or a Poodle.
You can get a good idea of what your Goldendoodle pup may grow up to look like by meeting the parents. You should also ask for pictures of previous litters from the same parents, if available.
Build
The Goldendoodle is an athletic breed with a sturdy, muscular body. An adult standard-sized Goldendoodle grows between 23 and 29 inches in height. A standard Goldendoodle weighs between 45 and 100 pounds.
The height and weight heavily depend on what size Poodle parent was used for breeding: Standard, Miniature, or Toy Poodle.
Based on average weights from both parent breeds, a Mini Goldendoodle can range between 30-45 pounds. Mini Goldendoodles can stand between 16-19.5 inches tall.
Height and weight ranges provided for the standard and Miniature Goldendoodle assume that the litter is first-generation, or F1. This means that a purebred standard Poodle and a purebred Golden Retriever were crossed.
Goldendoodles can come in even smaller sizes than miniature. Namely, the three sizes are:
It is harder to pinpoint how small these sizes truly are. The Toy Poodle ranges in weight from 6-8 pounds and has a height of 10 inches or less. This means that smaller-sized Goldendoodle would most likely fall in the same range.
Coat Type
Their long, dense fur is loosely curled and ranges in texture, depending on whether they inherit the coarse texture of the Poodle or the smoother texture of the Golden Retriever. They have a shaggy, almost messy appearance, much like a cute bedhead look.
Colors
Goldendoodles have a large variety of possible coat colors. Oftentimes, they are golden or cream-colored but other possible colors include blue, cream, black, brown, chocolate, red, sable, merle, silver, and grey.
They can be one solid color or multicolored. They can also have highlights or markings throughout.
Face
They have a friendly face, with oval-shaped eyes which can be either blue or brown. The head is rounded and broad with a long muzzle and floppy ears.
Grooming Requirements
Be prepared to have your Goldendoodle groomed regularly as their fur will easily matt. Professional help may be needed every 8-12 weeks to properly trim the fur away from the eyes, ears, hind end, and footpads.
A proper pet grooming kit is a must when you have a Goldendoodle, and investing in high-quality scissors, clippers, nail clippers, and a slicker brush is a must. You will be using them for grooming every week.
Pictures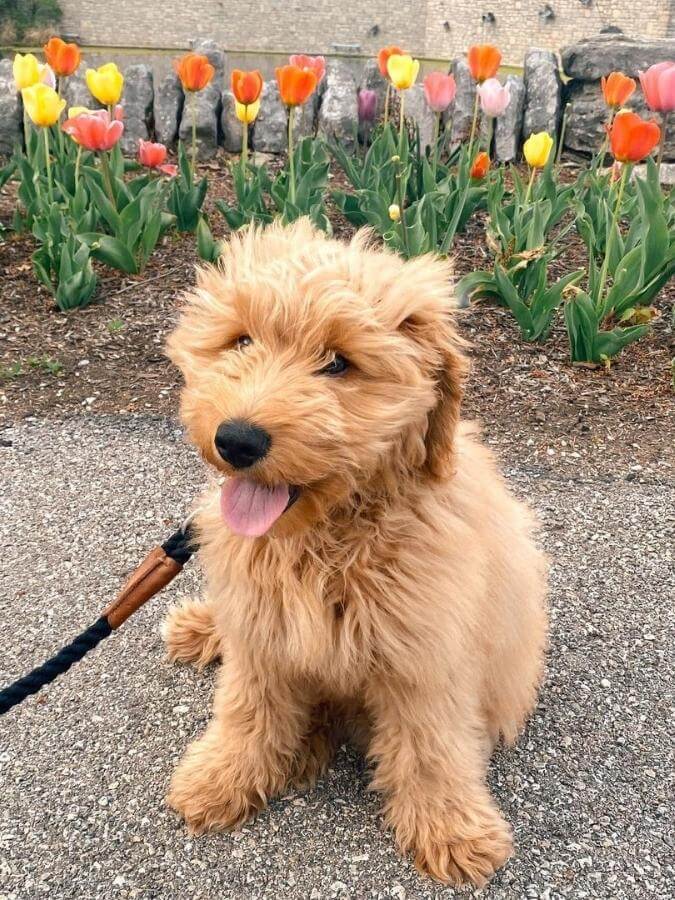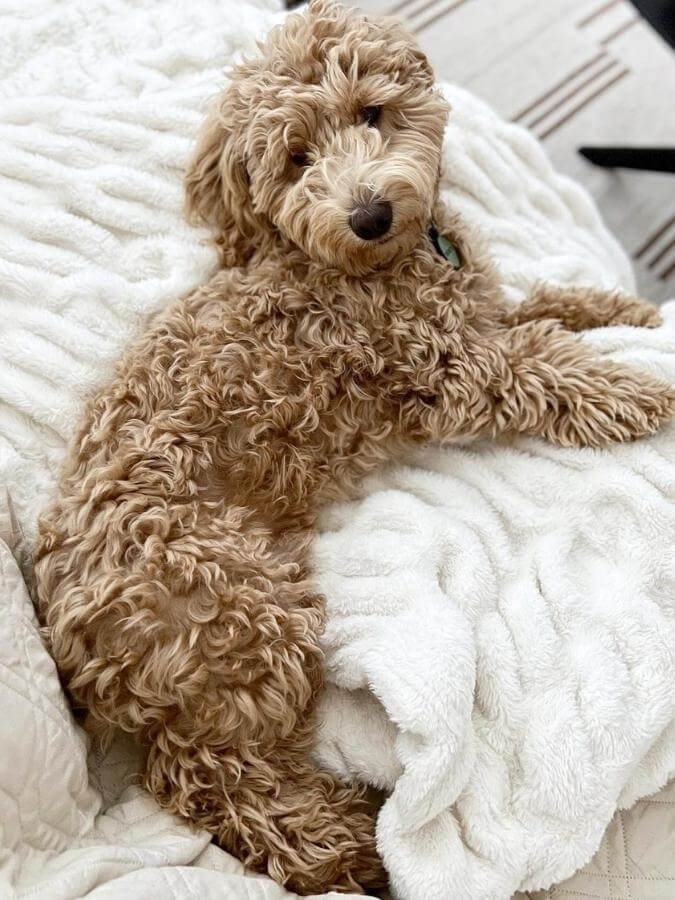 Health
The specific health concerns your Goldendoodle may face will vary depending on the health history of each of its parents. Only use highly recommended breeders as many backyard breeders use harmful breeding techniques.
Ask for the health history from both parents and up-to-date vet screening paperwork such as OFA and CERF certificates. A good, reputable breeder should have no problems providing information about your puppies' current health
You can expect that your Goldendoodle may be prone to health issues common to both Poodles as well as Golden Retrievers. Luckily, Golden Retrievers and Poodles are generally sturdy, healthy breeds.
However, there are possible health problems to look out for. Goldendoodles may be prone to Idiopathic epilepsy, sebaceous adenitis, eye disorders, and von Willebrand's disease from the Poodle side.
Significant concerns from the Golden Retriever parentage include elbow dysplasia, cataracts, and hip dysplasia. Fortunately, hybrid breeds usually benefit from inheriting the healthiest genes from each parent.
Issues that are common to all Goldendoodles include ear infections and yeast infections. This is because their floppy ears can harbor bacteria if it gets wet, as the ear's thick hair and enclosed nature will not allow water to drain quickly.
Make sure that your vet does frequent checks for eye disorders and hip dysplasia, as these are common ailments in Goldendoodles.
Taking care of your Goldendoodles' health every day means making sure he gets enough exercise daily. Frequent, dedicated training sessions will help keep them in top condition both physically and mentally.
Traits & Characteristics
Despite the popularity of the Goldendoodle breed, you will need to assess whether their temperament and needs are a good fit for you. Adding a Doodle to your family is a big decision, and you will need to take into consideration the cost of maintenance, food, healthcare, as well as the amount of time it will take to keep them happy and thriving.
The following visual provides a summary of the breed's traits and characteristics. The rating for each category is the average of the two parent breeds as provided by the American Kennel Club. Since each dog's personality is unique, these ratings provide a basis for reference for the Goldendoodle breed.
Energy Levels
These are high-energy dogs and will need a minimum of an hour of vigorous exercise to keep them happy. They will also need a lot of mental stimulation as their brilliant brains will need a good workout, too. Playtime with your Goldendoodle in the backyard may not be enough stimulation.
They will thrive in environments such as a neighborhood with lots of dog-friendly places to walk, perhaps a play park where your puppy can learn how to interact with other dogs. Their playful and social personalities will thrive in these kinds of environments.
The Goldendoodle has inherited a strong desire to retrieve things, so games like fetch and flyball will be instant winners. This makes them excellent candidates as hunting dogs.
These puppies are not shy of the water, and they won't hesitate to take a dip, so trips to the beach will be enjoyable for the whole family.
Agility and obedience training from a young age is recommended for the Goldendoodle as it will need an outlet for both its mental and physical energy. This is not the kind of dog that will be happy if it becomes bored. Boredom can lead to destructive, antisocial behavior.
Adaptability and Family Orientation
Because of the high energy levels, the Goldendoodle makes for an excellent pet for active singles who are home often or for busy families with children and other pets. This may not be the puppy for you if you are a senior with limited mobility or someone who prefers a more laid-back lifestyle.
Consider whether your lifestyle situation will be a good fit for your new puppy. Singles who work from home or families who are home would be a good fit for the Goldendoodle.
All dogs may be prone to separation anxiety, and it is no different for the Goldendoodle. They are inherently social and need interaction with their loved ones. Try not to leave your fur baby alone for an extended time, which could lead to distress and destructive behavior.
The good news is that Goldendoodles will adapt well to traveling and make great companions for camping trips. Their trainability and eagerness to please means they will be obedient and compliant buddies, happy to accompany you when you visit friends or do chores.
These are great companion dogs, and they adapt quickly to the needs of their owners, making for excellent therapy, guide, or service dogs.
Goldendoodles can adapt to urban environments, but ensure that your neighborhood has suitable places for long walks.
Goldendoodles are highly adaptable creatures as long as their basic needs for mental, physical, and emotional stimulation are met.
Trainability
Your new best friend will learn very quickly and be happy to take their cues from you. Stay on your toes from the beginning, as you won't want your puppy picking up bad habits.
Ensure that you establish a predictable routine for your young pup, as this will create a sense of security. Having a set time for meals, exercise, bedtime, and going to the bathroom will develop discipline and set the stage for further training.
Start socializing your puppy right from the start, especially if you have young children. Your kids will need to learn how to be gentle with the young pup so that it can feel safe and unthreatened. They will establish relationships reasonably quickly as they are friendly dogs by nature.
Allowing your puppy time around other dogs from an early age will also benefit them as they learn how to behave in public. Make sure that your puppy is safe at all times and doesn't irritate or unknowingly antagonize bigger dogs.
Most traditional obedience training schools only accept puppies from around six months of age, but your Goldendoodle will constantly be learning from you from day one. Even as young pups, they should already pick up basic commands.
Be consistent with rewarding your Doodle with praise or treats (whichever proves most effective) for desired behavior and disapproval when bad behavior occurs. Their eagerness to please you will mean that the two of you will soon become an effective team.
Cost Of A Goldendoodle
The Goldendoodle is one of the more expensive hybrid breeds, and the cost will range anywhere from $100 to $8000, depending on where you buy your puppy [8]wagwalking.com/wellness/how-expensive-is-it-to-own-a-goldendoodle. Even though it is highly recommended that you buy directly from a breeder, you may find this breed at shelters.
Factor in the costs of good quality food, grooming, and vet checkups when considering this breed. Regular grooming will be a priority, and should you not have the time, be sure to put aside a budget for a professional pet groomer to do the job.
Conclusion
In conclusion, I believe Goldendoodles are wonderful dogs to own. They make excellent pets for all types of families. They are floofy, energetic, and easy to love on.
I covered a lot in this article and I hope I answered some of your questions and found the information useful. The next step, go out there and find a Goldendoodle pup to bring home!
Related Posts