River Valley Doodles is a Goldendoodle and Sheepadoodle puppy breeder in New York. They have a long list of testimonials from previous customers who love their puppies.
Lastly, they also have a podcast called School for the Dogs, which teaches owners how to care for their pups.
About River Valley Doodles
River Valley Doodles is a small family-owned company comprised of a mom named Cheri and her adult daughters. These breeders have Goldendoodles and Sheepadoodles that are family-orientated for sale.
They have been in the business for quite some time and understand what it takes to create a loving puppy temperament. If you'd like to know more about their journey, consider listening to their podcast here.
Raising Puppies
All puppies are raised in-home and get plenty of love and care from the breeders. They have extended family that visits often, which helps socialize the pups with people of all ages.
They also hire help so the Doodles get the best care and socialize with many people.
The puppies are also trained from a young age and are given lots of exercises. This leads to better dogs as they learn to expend their energy healthily.
Aside from that, the pups can be entered into a puppy training camp the family runs for an extra cost.
What kind of dogs do they breed?
River Valley Doodles provides two breeds, Goldendoodles and Sheepadoodles. The Goldendoodles are mixed with a Golden Retriever and a Poodle.
On the other hand, the Sheepadoodles are mixed with an Old English Sheepdog and a Poodle.
How much are River Valley Doodles' puppies?
The price of their puppies depends on the breed and color. In general, you can expect to pay $2,500 plus a $200 NY state tax for pups born in the winter and spring—however, the price changes to $3,000 with a $240 state tax during the summer.
You can expect to pay anywhere from $2,700 to $3,240. This doesn't include shipping costs, which can be another $400 to $600. 
Application & Adoption Process
To get a puppy, you must complete an application on their website. Their puppy application helps the breeders determine if a puppy is right for you. It also helps ensure you get a slot to choose a specific type of puppy from their litter.
You must submit a deposit to get a puppy. After you apply, they will either deny or approve it. Then, you will need to send them a $500 non-refundable deposit. The deposit holds your slot for a puppy in an upcoming litter.
Do they offer shipping or delivery?
You can always pick up your dog in person in Rochester. However, if you can't, then there are a few options to choose from. The breeders only offer deliveries for specific areas.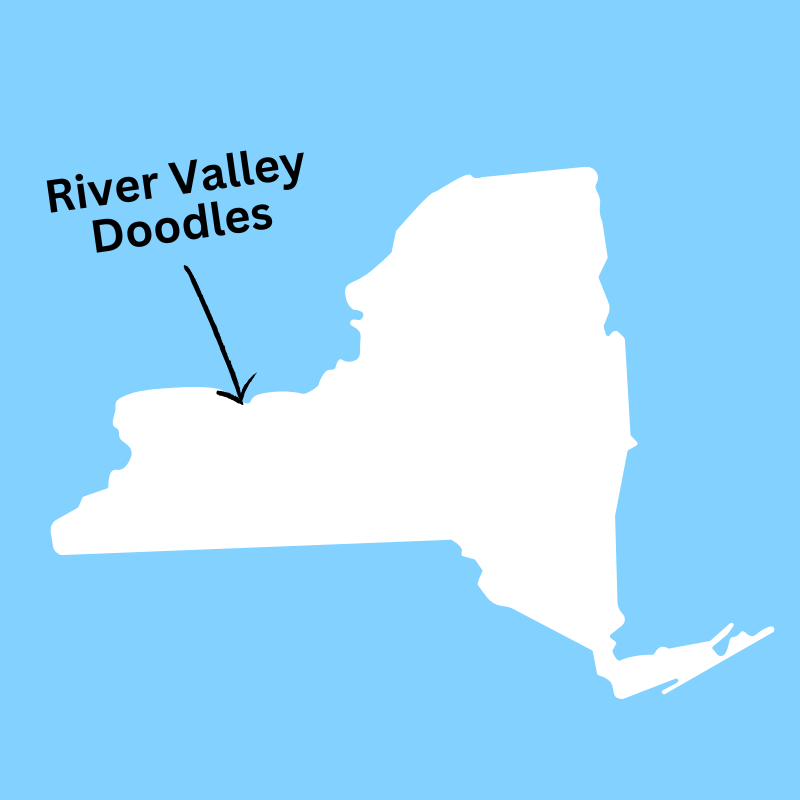 First, you can arrange a custom delivery to either Albany or Newburgh. However, these will cost you anywhere between $400 to $600.
Other areas in which they can make arrangements are listed down below:
Albany, NY
Connecticut
New Jersey
Boston, Mass.
Pennsylvania
Florida
New York City
They make a family effort to ensure the puppies get to their home. They don't like using businesses for transportation, which can be traumatic at a young age.
All of their deliveries are made by their family members or friends. That way, they know the pup is being treated while during transport.
Guarantee
On their website, I have yet to see any guarantees. However, they are NYS inspected and licensed. This means they have to pass strict and rigid care of animal inspection.
This includes paperwork to ensure that everything is legitimized. They also pay state tax, proving that they are an honest business.
Aside from that, they include many resources for helping new puppy owners get ready for their new dog. So they are always there to help.
Doodles range a lot in size, coat style, and color. So, it can't be expected that a pup will be born with these traits, mainly because they are a crossbreed.
However, they have stated that they can't guarantee the size or coat of a puppy.
They also don't guarantee that these are hypoallergenic or shedding dogs. Some dogs will naturally shed, while others won't. So, you'll have to agree to these terms if you plan on getting a puppy with
River Valley Doodles Review
Below are a few reviews from previous River Valley Doodles customers:
"We think about you all the time as we marvel at what an amazing dog she is! She has adjusted quickly to her new environment . . .

We have trouble walking very far because people keep wanting to meet her! And lots of people inquire about our breeder . . .

We are so in love with her. Thank you for all your support along the way"

Beth & Larry
"We love Murphy so so much. He's a wonderful dog with so much personality . . . He's smart, and he's learning so much each day . . . He's healthy and fun, and we really cherish him.

Thank you for providing such a wonderful breed."

Gretchen G.
"I've been meaning to email you to tell you that Stark has been an absolute angel . . .

He plays so well with other dogs, walks well on his leash, potty trained very fast, takes his shots like a champ, loves the car, groomers and all people and most importantly really gives us so much love and affection! 

I appreciate all of your help in the beginning … I would have gone crazy without the Facebook group and your help… Having the group was super supportive when I wasn't sure what to do!"

Alicia
How to contact River Valley Doodles
Below is the contact information for RVD. You can email them or interact with them directly on their Facebook page.
Location: Rochester, NY
Website: rivervalleydoodles.com
Facebook: RiverValleyDoodles
Email: [email protected]