The Golden State is home to sunshine, surfing, and super cute Doodles. Not just any kind of Doodles either, I'm talking about Whoodles! In this article, I am going to present to you the top Whoodle breeders in the state of California.
First, I'll give you a little background on our beloved Whoodles and the research I did to create this list of top-notch Whoodle breeders.
You will know exactly where to adopt a healthy, adorable Whoodle pup in Cali by the end of this article.
Overview
A Whoodle is a mix between a Soft-Coated Wheaten Terrier and a Poodle. Since they are mixed with a Poodle, they are a Doodle breed. I am biased but in my opinion, Doodle dogs are the best dogs.
Whoodle Facts
Whoodles can also be referred to as Wheatenpoos, Sweatenpoos, Wheatendoodles, or Sweatendoodles. No matter what the name, they are incredible dogs. They inherit all the wonderful traits of their parents to be social, smart, and loyal companions.
Soft-Coated Wheaten Terriers, or Wheatens, are affectionate and family-oriented dogs that were bred in Ireland. They originated as farm dogs and have grown to be excellent modern pets.
Poodles originated in Germany and were bred to be hunting dogs. They are super smart and athletic, which makes them fun additions to any family.
Mix both of these popular parent breeds and you get an incredible doggo: a Whoodle! If you want to learn even more about these awesome pups, you can check out my complete Whoodle guide here.
Breeder Research
If you live in or near California and are interested in adopting a Whoodle, I have done extensive research on quality Whoodle breeders located throughout the state. I try my best to do a thorough analysis when I decide on which breeders to include.
Some of the criteria I look for are professionalism, experience, details on care and nurture, emphasis on puppy health, and good reviews.
In the next section, I will show you the top three Whoodle breeders in California. There may be more than three quality breeders in the state, but I feel confident that these are the best choices.
Whoodles of Joy
Whoodles of Joy is a quaint, family-run breeder in Southern California. They have been breeding Whoodles for over 16 years. They are a family of three and raise their puppies in their home.
Whoodles of Joy makes it clear that their Mini Whoodle puppies are treated like their children with tons of love and care. Their mission is to share the joy and wonder of dog ownership with others. After all, a dog is more than just a pet – they are family.
Each one of their puppies goes home with a "puppy package". This package contains a certified veterinary exam, first round of shots and de-worming, a one-year health guarantee, food, and blankets/toys. Whoodles of Joy also provides lifetime support for you and your pup in case you have any questions or need guidance.
Whoodles of Joy Reviews
Here are a few reviews from past Whoodles of Joy buyers:
Ashe has been an absolute joy since we've welcomed him to our family. He just fits with us. He travels happily, has slept through the night in his crate from day one and is just the sweetest boy. My whole neighborhood is in love with him and everybody knows his name.

His Forever Family
Preston is a loving little boy. He is so smart and affectionate and a wonderful addition to our family.

His Forever Family
Oscar is hungry for love. He and my daughter are best pals.

His Forever Family
Contact
If interested, you can reach them using the information below.
Location: Southern California
Website: whoodlesofjoy.com
Phone: 714-588-5230
Email: cathy@whoodlesofjoy.com
Facebook: Whoodles of Joy

wataWhoodle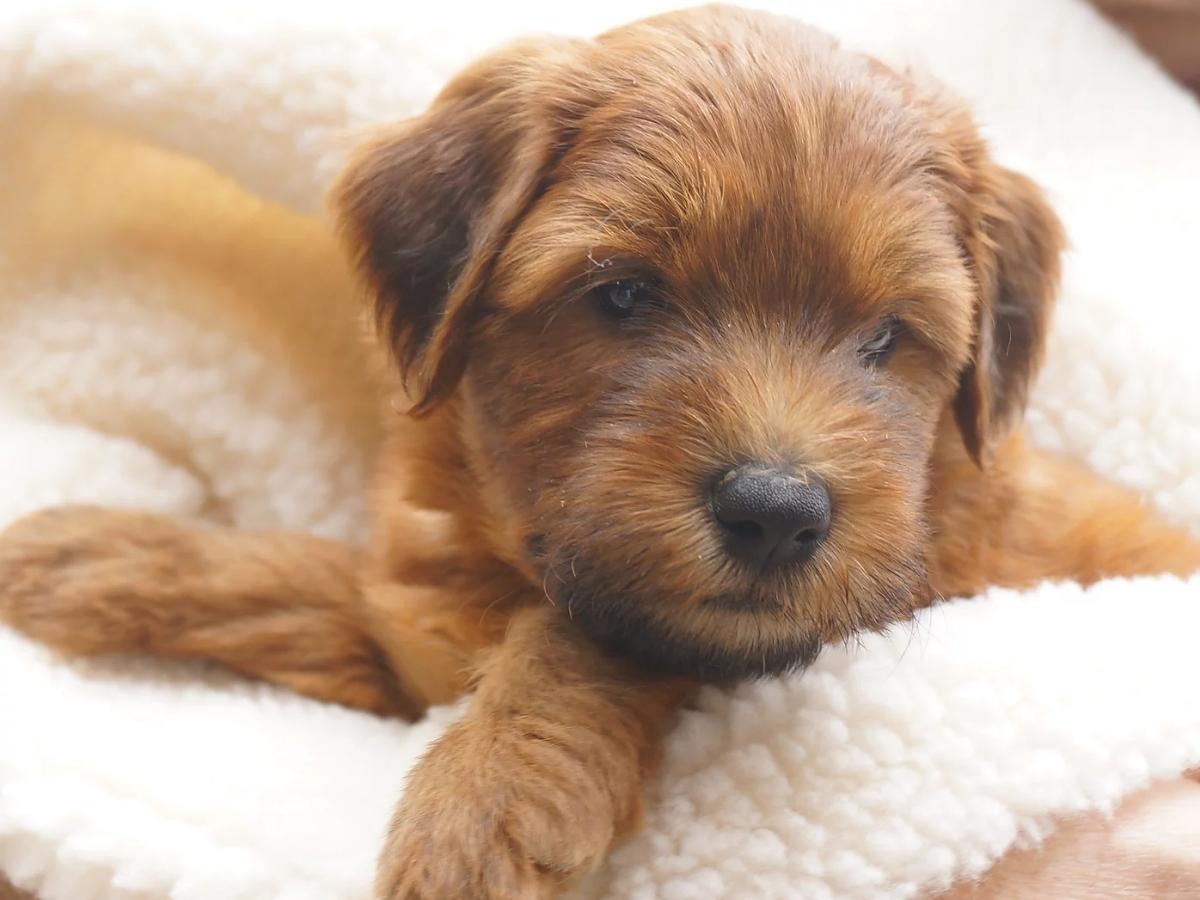 wataWhoodle is a small, family-based Mini Whoodle breeder in Northern California right outside of Sacramento. They have been breeding, red-colored Mini Whoodles for over 6 years now.
Their story as breeders began when they lost their Toy Poodle. They were in search of another hypo-allergenic dog to join the family. The children and husband were obsessed with a dog that was in their neighborhood which turned out to be a Soft-Coated Wheaten Terrier.
They took it one step further and thought how perfect would it be to have a crossbreed of a Poodle and a Wheaten. So, they started to breed their beautiful red Mini Whoodles in their home in Northern California and the rest is history!
My favorite part about wataWhoodle is that they are family-owned and operated. They have two Soft-Coated Wheaten Terriers and two red Miniature Poodles that are the parents for the litters they produce. From their Facebook page, you can easily tell that the parent dogs have a great time and are treated with love and affection.
Their puppies will grow to be around 15-30 pounds. They come with a full veterinary wellness exam and their first round of vaccines. A $350 deposit is required to reserve one. It looks like they have a litter once or twice every year from past information.
wataWhoodle Reviews
Below are some of the reviews that I found to be both inspiring and helpful:
Nula is doing wonderfully. Both Mom and I love her to death. She is now part of our family. Everyone in my community knows her. Cars stop to take her picture and whenever we go out, she gets lots of attention. I have a trainer for her and we are working hard to direct all that puppy and Wheaten energy. Can't imagine life without her.

T. Mahoney
We absolutely LOVE our little Luna Selene. She is spunky, happy, playful, and very snuggly. She wants to get as close to us as she can get. And she is a great sister to our other Whoodle, Rio Corazon. They are best friends and follow each other everywhere. It is a joy to watch them together.

Wayne and Jennifer
We adore her and are forever grateful to be her fur parents. She is sassy, stubborn, crazy, smart and also the cutest, sweetest dang dog I've ever seen. She's changed our lives for the better and brightens my days even though she's chewed our entire house.

Mark & Katie
Contact
You can get in touch with wataWhoodles in a few different ways. See below for details.
Location: Rocklin, CA
Website: watawhoodle.com
Phone: (916) 276-6203
Email: watamor@gmail.com
Facebook: wataWhoodle – Mini Whoodle
Instagram: @watawhoodle_mama
Celebrity Pups
Since the original publish date of this article, I have received feedback about the reputation of Celebrity Pups. Due to many concerns and reports that provide evidence this breeder is a puppy mill – I can no longer recommend them. I trust my readers and the community, so I must take their word for it. However, I know some people have purchased puppies from Celebrity Pups and have been happy with their experience. Therefore, I will keep the original information below, BUT please be sure to do your homework before dealing with this breeder!
At first glance, I thought Celebrity Pups was just a cute name for a breeder. As I did some research, I realized they weren't kidding when they meant 'celebrity'. They have had many of their puppies and dogs featured in movies, TV shows, talk shows, commercials, and print advertisements.
I'm not talking about some local TV stations and advertisements. Their features include big names like the Conan O'Brien Show, Jimmy Kimmel, Animal Planet, and Disney (!). They have even been featured in commercials for Kia, Century 21, and Subaru.
Okay, it's starting to seem like I'm a little starstruck. The most important part of a good breeder is how they raise and nurture their puppies. It has nothing to do with how many big-name TV shows or movies they've been in.
Celebrity Pups is committed to raising their puppies happily and healthily. They have been raising puppies for over 20 years on their 10-acre farm in Southern California. They choose the parents based on health and temperament to ensure their puppies inherit a calm, gentle temperament and are as healthy as possible.
Celebrity Pups goes above and beyond when it comes to genetic testing. They test each breeding dog extensively to rule out anything that could potentially be passed on to the litter.
Their pups are well-socialized and introduced to children early on. They are even raised around cats so that they can develop a friendly relationship with all house-dwelling creatures.
They are fed the Pawtree diet, which is both poultry and grain-free since Wheatens (thus Whoodles) can be sensitive to those ingredients. Each puppy goes through a comprehensive, multi-step examination to ensure they are healthy and are provided with all the proper care required for a little pup.
Not all their dogs make it to the red carpet, many of their dogs are adopted and trained as service dogs or therapy dogs. Their dogs have had success as therapy and companion dogs for veterans, nursing homes, and children with special needs.
As a veteran, I love to see breeders that are proactive in providing therapy dogs for soldiers that suffer from PTSD. Celebrity Pups even offers a military discount for their pups.
Celebrity Pups Reviews
In my opinion, the best way to find out the quality of a breeder is through reviews from past customers. Celebrity Pups has many good reviews both on their website and on their Facebook page. Here are a few that I found noteworthy:
Wanted to say a big thank you for introducing us to our Mini Whoodle, Emma . . . she's an amazing little puppy, she is such a happy puppy, we couldn't be happier. Perfect addition to our family. Perfect fit to our household. . . . My 2 other dogs love her so much . . . Jason and I are very happy we found you guys, Emma is truly a blessing.

Carlos E.
We wanted to say thank you for the best thing that's happened to our family! We are soooo in love with our Whoodle, Cooper…. he's smart and funny and nothin' but love. He loves the water and Joseph our son! We are truly a happy and blessed family! I've never personally had a dog before and can't imagine life without him now!

Heidi, Lou, Joseph, and Cooper
My husband is an Army veteran with five deployments to Afghanistan and Iraq. He didn't come back the same . . . I was in search of not a cure but something to help him cope. I did some research and found that maybe a service dog would be in his best interest . . . After much research I came across Denise and Celebrity Pups . . . I explained our situation and she was very helpful and she said she had the perfect dog for us and offered it at no cost to us for my husband's service to his country! . . . She instantly connected with my husband! … Since having our Charli-Girl my husband no longer goes through his anxiety attacks and even enrolled in our local college where he takes Charli with him to his classes. We couldn't imagine our life without her. She has saved him. She knows when he's stressed and having an attack and calms him down. She even helps with his nightmares at night. . . . I no longer worry about leaving my husband at home while I am at work because of Charli … Getting a Whoodle was the best decision we have ever made!

Ashely S.
Contact
Details to get in contact with Celebrity Pups are provided below.
Location: Southern California
Website: celebritypups.com
Phone: (213) 267-8114
Email: celebritypups@yahoo.com
Conclusion
In this article, I covered three rock-solid Whoodle breeders in California. These breeders are great options for Whoodles, Mini Whoodles, and even Soft-Coated Wheaten Terriers.
Whoodles, and Mini Whoodles, are magnificent dogs and make for a perfect addition to any household. If you are interested in learning more about Whoodles, I wrote a lengthy article about them. Or maybe you need a dose of cuteness, I recommend looking at cute Mini Whoodle puppies.
I wish you the best of luck in your Whoodle search. Surf's up!