Mystic Doodles is a Goldendoodle and Poodle breeder in Bodega Bay, CA.
This article will cover the following topics regarding this breeder:
Overview of Mystic Doodles
Mystic Doodles Facebook
Mystic Doodles Reviews
Mystic Doodles: Breeder Overview
Mystic Doodles breed both Goldendoodles and Poodles. It is owned and operated by Tami Pennington.
They are located in Bodega Bay, California, about one hour north of San Francisco.
Along with breeding puppies, they have a guardian home program. A guardian home is a program in which their breeding dogs, dam or sire, are placed in a permanent home. This way, they live with a loving family and enjoy an everyday dog life.
Mystic Doodles specifically breeds Medium F1 English Goldendoodles, Standard F1B Goldendoodles, and red Poodles. According to an archived screenshot of their website, their last litter of puppies was in 2019.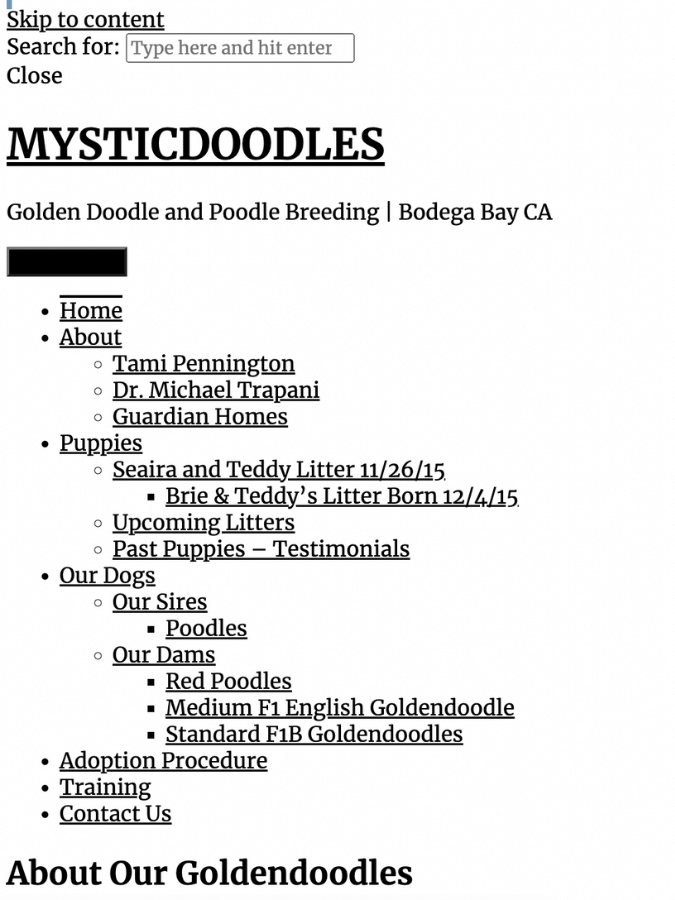 Are they an ethical breeder?
I could not find any malpractice reports or negative reviews in my research. If they are still breeding Goldendoodles, be sure to do your research before purchasing from this breeder.
Are they still a breeder?
It does not seem like Mystic Doodles is an active breeder anymore. I reached out to Tami, the owner, and she did not respond to my inquiry.
Their website (mysticdoodles.com) is no longer active. However, they do have a Facebook page.
Mystic Doodles Facebook
The breeders set up the Mystic Doodles Facebook page to connect the people that bought Goldendoodles from them. The last post on the page was in April 2020.
Their Facebook page is open to the public, so you can visit it and contact the breeders there. It is also an excellent way to connect with other Goldendoodle owners who bought a puppy from Mystic Doodles.
Mystic Doodles Reviews
There are no reviews on Google for Mystic Doodles. Since their website is not active, I could not gather reviews from there either. The only two reviews I could find were on their Facebook page.
"At just 7 weeks old Willow had learned come, sit, stay, lay, spin, touch, focus. Such a sweet soul learning from the breeder Mystic Doodles. Can't wait to bring her home. By the time she comes home, she will also be crate and potty trained."

Anonymous
"Love this puppy Benji so much thank you Tami!!!"

Renee R.
How to contact Mystic Doodles
There are a few methods to contact Tami, from Mystic Doodles. Below are the details for each method.
Phone: (707) 377-4297
Email: mysticdoodles@gmail.com
Facebook: Mystic Doodles
Instagram: @mysticdoodles
Summary
In this article, I covered the following information about Mystic Doodles:
Breeder Overview
Mystic Doodles Facebook Page
Mystic Doodles Reviews
Contact Information
Are you looking to adopt a Goldendoodle soon? Explore my comprehensive guide to the Golden Retriever-Poodle mix.