Finding a quality dog breeder can be a challenge. It's even more of a challenge when searching for Whoodle breeders since they are not as common as other Doodle breeds, such as a Goldendoodle. If you live in or near the Sunshine State, this post will help guide you to the best Whoodle breeders in Florida!
Before I cover the Whoodle breeders, I will first tell you how I search and find good breeders. Then, if you are not familiar with the Whoodle dog breed, I will cover the basic information regarding this wonderful Doodle breed.
Keep reading to learn about Whoodles and the best breeders in the state of Florida.
Finding a Good Breeder
The simplest way to find a Whoodle breeder is to go to Google and search "Whoodle breeders near me" or "Whoodle breeders in Florida". This is the first step to finding a breeder or puppies for sale near you for any type of dog.
However, this will provide you with a mixed list of results. Just because Google gives you results doesn't mean you should take them at face value. It is important to comb through each result and sort for quality.
When I search for Doodle breeders, which is quite often, I always go for the breeders that have an established website. I tend to avoid any one-off "breeders" that have a litter for sale but with no credible history or reviews.
A quality website with a lot of breed-specific information and reviews is a good indicator that the breeder knows what they're doing. From there, I go through and read everything I can on both their website and social media.
It should go without saying, but bad reviews and a shady website should give you enough warning that the breeder in question is not worth your business.
I use the above process to identify good, reputable breeders. This is how I found the two best Whoodle breeders in Florida. Yes, they're only two but that is perfectly fine because you want quality over quantity when it comes to responsible dog breeders.
What is a Whoodle?
If you approached a stranger on the street and asked her about Whoodles, the odds are high that she would look at you funny. Whoodles are a Doodle dog breed that is rising in popularity but still not as common as a Goldendoodle.
A Whoodle is a mix between a Soft-Coated Wheaten Terrier and a Poodle. They can come in a large size, which is just commonly referred to as a Whoodle. Or, they can come in a smaller size which is called a Mini Whoodle.
Whoodles are intelligent and family-oriented dogs. Their smarts come from the Poodle and their focus on family stems from the Wheaten. Both parent breeds are active and job-driven, which means the Whoodle is chock full of energy and ready to go at a moment's notice.
If you want to learn more, I encourage you to read the complete guide to Whoodles before you decide to buy one.
Now, I will show you where you should buy a Whoodle if you are a Floridian (or nearby).
Top Two Breeders
The best Whoodle breeders in Florida are Wonderlands Whoodles and Doodles Sanctuary. Both breeders are top-notch and well-reviewed. Let's take a closer look at both of them!
Wonderlands Whoodles
Wonderlands Whoodles, also known as Sheepadoodle Wonderland, is a small Doodle breeder in southwest Florida. It is owned and operated by Lyric, who is a certified dog trainer and established breeder.
Lyric owns and operates Wonderlands Whoodles with her family. They breed Sheepadoodles, Bernedoodles, Poodles, and Mini Whoodles.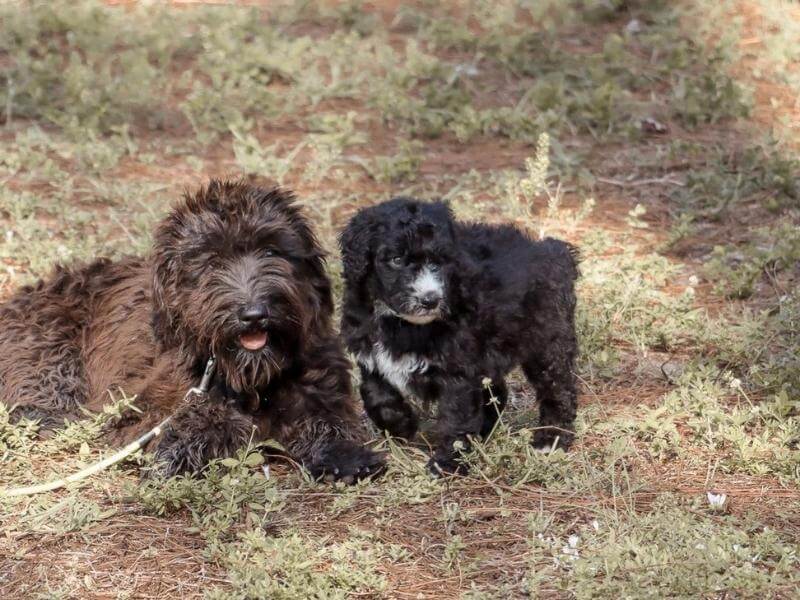 Health
She emphasizes ensuring their puppies are healthy. All parents (studs) are rigorously tested for common health problems and issues. They offer a 4-year health guarantee for their puppies, which is the longest health guarantee I have seen from a Doodle breeder.
Raising Puppies
Lyric takes special care in raising the puppies from the day they are born right until they are given to their new family. All puppies are led through age-specific exercises and stimulation to make sure they mature both physically and mentally. Each pup is socialized appropriately and introduced to young children daily.
Price
Mini Whoodles from Wonderlands Whoodles are priced based on color. Puppies with rare colors such as merle, phantom, and brindle cost $3,300 each. More common colors such as sable, black, and blue cost $2,800 per puppy.
Reviews
Wonderlands Whoodles has some great reviews, which is always my go-to sign when searching for a good breeder.

I was lucky enough to find Sheepadoodle Wonderland in fall of 2020. Lyric kept us informed and updated throughout the pregnancy and early weeks of our puppy's life. We were able to go to her home to pick out our puppy; it was great getting to see how well she was cared for, and to meet the littermates and mom dog . . . Lyric has always been there to answer my questions or give her opinion on how to best take care of my pup. I recommend Lyric and Sheepadoodle Wonderland to anyone looking for a sweet and smart little pup, and look forward to a second puppy in a few years.

Jenna S.
We got a puppy here and she's been wonderful! The whole process was super smooth from seeing her picture on the website, to receiving videos and pictures of her as she grew, to meeting and picking her up. Doodle is now 10 months old and is one of the most loving little girls I have ever met.

Rachel B.
Application Process
Interested buyers are encouraged to fill out an application form and join their waitlist which can be accessed here.
Contact
Location: Lehigh Acres, Florida
Website: sheepadoodlewonderland.com
Phone: (239) 810-4094
Email: Lyric@StoneHavenk9.com
Doodles Sanctuary
Doodles Sanctuary is a dog breeder located in central Florida. They breed Whoodles, Labradoodles, Schnoodles, and other Doodles.
Some of their puppies were featured in a Vogue (Portugal) video. Check it out below:
Reviews
Doodles Sanctuary has a 4.4 star average on Google reviews (insert link). There are plenty of very good reviews for this breeder but there is also a mix of negative reviews that should be noted. Ultimately, it is up to your judgment to determine if this breeder is up to par.
I hesitate to post negatively about them since I have not visited their facilities. I encourage you to do your homework and research before making the final decision to buy a Whoodle puppy here.
Contact
Location: Hernando, Florida
Website: www.doodlessanctuary.com
Phone: (352) 516-2843
Email: doodlesandmoregalore@gmail.com
Final Thoughts
Whoodles are an excellent dog breed. They have unique personalities and are easy to train. They are the ideal breed for families which is one reason they are growing in demand these days.
Whoodles are special dogs and like most animals, they require a lot of care and affection. They need regular grooming, dedicated training, and daily exercise.
If you're looking for a Whoodle puppy to join your family, then you've already made the right decision. Now, it's time to do some research and reach out to Whoodle breeders near you!
Related Posts